Disclaimer: I am not a medical professional. Please discuss any mental health or other concerns with your doctor! If you are feeling suicidal, you are not alone. Call 1-800-273-TALK or text 'HOME' to 741-741 to talk to a trained volunteer about what you are experiencing.
Sometimes, mental illness tricks you into feeling better – so much better, in fact, that you forget it exists. But having anxiety or depression is more like having cancer than having a cold: it goes into remission, but it's never really "cured."
When anxiety rears its ugly head after months and months in remission, my first reaction is usually one of shock: where did this come from? And what have I been doing wrong?
Many times, the sources of anxiety or depression are obvious. A stressor emerges, such as a major exam or big move. Other times, however, we have to dig a little deeper to find the sources of our inner unrest.
If you've examined your life and still don't know where to turn, the sources of your anxiety may be hidden in unexpected places. Here are five red flags you may not have noticed yet – and why you might not realize they're sabotaging your mental health.
1. Caffeine
Pounding heart, shaking hands, problems sleeping….to anyone with anxiety, these symptoms may sound familiar – but I'm actually talking about the side effects of too much caffeine!
If your anxiety has felt out-of-control lately, your morning latte may be the culprit. Try tracking how many milligrams of caffeine you drink per day for a week. The FDA recommends a daily limit of 400mg – that's about four cups of coffee, eight cups of black tea or one-and-a-half energy drinks.
If you've got anxiety, you might consider drinking even less. I recommend decreasing your caffeine intake by one beverage per day until you find your sweet spot – that is, the number of caffeinated beverages you can drink without experiencing the drug's ill effects. For me, that's 2-3 cups of coffee per day – but since everybody metabolizes caffeine differently, based on their age, weight and even their genes, it's important to observe your own diet to find out what works best for you.
2. Processed Foods
Ever heard of a little thing called the gut-brain axis? In case you haven't, you should know that the digestive tract produces up to 90% of the body's serotonin. In other words, what you eat impacts how you feel – not just physically, but mentally, too.
Harvard Health Blog puts it best: "Like an expensive car, your brain functions best when it gets only premium fuel." Fresh, whole foods that are low in sugar and high in nutrients are like high-octane gas for your brain: they allow your mind to function optimally, minimizing daily wear-and-tear. In other words, a serving of birthday cake or too much cheese off the party platter won't wreck your mental health – but eating like that all the time could.
Considering mental illnesses like depression impact our ability to prepare fresh, healthy foods for ourselves, eating too much takeout or too many prepared, frozen dishes may be a subtle sign of a downward spiral. Thankfully, you can rectify the damage by incorporating more whole foods into your diet – and repairing your healthy gut bacteria with probiotic and fermented foods. That way, your body's serotonin factory can go back to operating like a well-oiled machine.
3. Automatic Thoughts
Some negative thoughts are obvious: "No one loves me." "I don't deserve this." "Life isn't worth living anymore." Others, like this doggo, show up in disguise….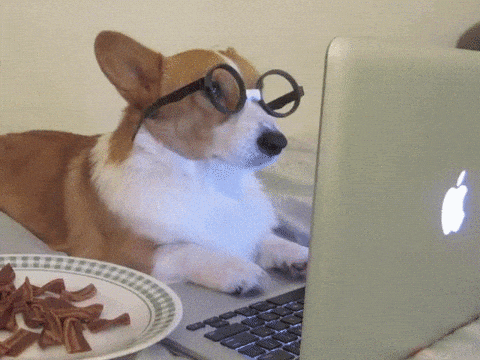 Dog or hooman? And does bacon cause cancer? The world may never know. My point is, some negative thoughts are learned so deeply that they become virtually impossible to distinguish from 'normal' ones. In fact, you may not even realize that you're having them – or that they're hindering your progress toward achieving mental health.
Thankfully, just as you learned these automatic negative thoughts over time, you can also learn to recognize and challenge them. Depending on the severity of your anxiety, this may best be done with the guidance of a mental health professional. Mindful meditation could also help, by making you more aware of your thoughts and giving you a window to disrupt negative thought patterns before they can cause you distress.
4. Nutritional Deficiencies
When's the last time you had your vitamin levels checked? If you're anything like me, it might have been awhile. Though many health conditions can masquerade as anxiety and depression, vitamin and mineral deficiencies are one of the most easily treatable causes of new mental health complaints. (Among other chronic diseases, hypothyroidism, Lyme disease and even certain cancers have been linked to depression – so be sure to visit your doctor to rule out these medical conditions if you are experiencing new symptoms of a depressive episode.)
Low levels of vitamins B or D may cause symptoms of depression, such as fatigue or negative mood. As for minerals, iron, selenium and magnesium are most commonly responsible for low energy, depressed mood and even irritability. In many cases, the best treatment for a deficiency is a dietary supplement – but to be diagnosed and treated for such deficiencies, you must visit your primary care provider. He or she will probably conduct blood tests to assess the bioavailability of certain vitamins – and if a deficiency is discovered, prescribe a high-dose vitamin for you to take at home.
One word of caution: be careful not to fall for the causation vs. correlation trap. While depression can be a symptom of low vitamins or minerals, it can also be a cause. Many people with depression experience decreased appetite or low motivation to prepare healthy meals for themselves, which can lead to nutritional deficiencies. So, if you find that addressing nutritional gaps doesn't improve your depression, you may want to consult a mental health professional – ensuring you don't fall into a vicious cycle of treating the symptoms rather than the disease.
5. Sleep
It's common to experience sleep disruptions as a symptom of mental illness. For some, that means sleeping too much and finding it difficult to wake up in the morning. Others may describe a pattern of sleeplessness due to racing thoughts, or waking up unexpectedly in the middle of the night after experiencing a vivid nightmare.
Like dietary deficiencies, sleep disruptions can cause depression, and depression can cause sleep disruptions. Problems sleeping could even be due to medical illness. Your primary care doctor can tell you for sure what the best course of action is for your health – but as for steps you can take at home, effective sleep hygiene is crucial to maintaining good mental health.
So, what makes for hygienic sleep? Limiting daytime naps and stimulants such as caffeine, establishing consistent sleeping and waking hours and avoiding environmental triggers, such as a room that's too hot or artificial light from cell phones, all contribute to healthy sleep patterns. While a good night's sleep can't fix all mental health problems, it certainly doesn't hurt to arrive at your therapist's office feeling clear-headed, alert and ready to take on your recovery, one baby step at a time.